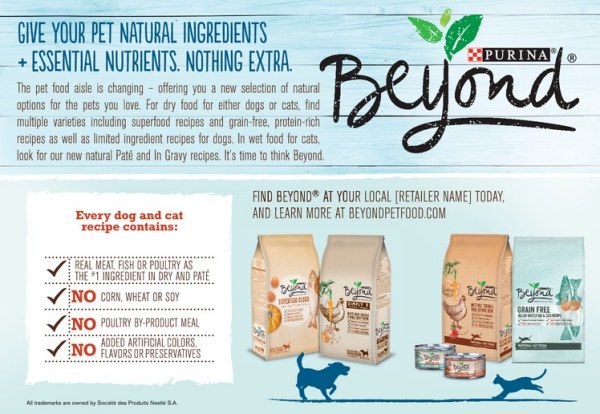 Wow! Here is a super high-value printable coupon for you to save $5.00 Off (1) Bag of Purina Beyond Dry Pet Food!
To get your coupon, just go HERE and fill out your information to register. Your coupon will be sent via email for you to print shortly after you complete registration. With such a high-value coupon – it is a great opportunity to give this pet food a try.
Beyond is available in Natural Dry and Wet Dog Foods, Natural Dry and Wet Cat Foods and comes in many varieties – superfood recipes, grain-free recipes and more. It is made from natural ingredients sourced from trusted suppliers and their priority is to optimize the way real ingredients and essential nutrients come together so that Beyond is both naturally and nutritionally complete.
Many of you may know that my family rescued a Shepard mix last summer that we named Luna and I was recently sent a complimentary bag of food for her to try. Typically she just rushes through meal time, and I feel like she never chews her food. So it really surprised me when I gave her the Beyond that she actually seemed to take her time, and really chew and enjoy her food.
I also don't think I've ever seen her lick her chops quite so many times while eating. I actually caught her doing it twice with my camera and then she gave me a goofy look like "Why do keep bugging me? I'm trying to eat here!" 🙂
So if you've been wanting to give Beyond a try too, be sure to register & print this nice high-value $5 coupon. Then bring it to Target to redeem where the opportunities to save get even better since we have several stacking options with cartwheels and store coupons. We also have a couple special deals going on to help you save even more!
For starters, there are a couple different Target Cartwheel Offers to save 5-10%…
-5% Off Purina Beyond Dry Cat Food Target Cartwheel x3/21
-10% Off Purina Beyond Natural Dry Dog Food Target Cartwheel x3/21
There is also a $2 off Beyond natural dry dog or cat food 3-lb. or larger Target Coupon you can stack with too! Between the $5 Manufacturer's coupon and $2 Target Coupon, this gives you $7 Off one bag of Beyond pet Food! Plus use Target Cartwheel to save an additional 5-10% Off! Some of you may also have gotten the regional $2/1 Purina Beyond Dry Dog or Cat Food 3 lb+ Target Coupon 2-15-15 RP x3/27.
Also to note- there are 2 special deals going on at Target to watch for at your stores. The first is for a FREE $5 Target Gift Card when you buy 2 Purina Beyond Dry Cat Food 3 lb Bags thru 3/21 with prices starting at $9.59. The second deal to watch for is a FREE Can of Beyond Wet Dog Food when you purchase a Beyond Dry Dog Food 3.7 lb Bag thru 4/11. The Bags were priced at $9.99 for me, but please keep in mind prices can vary by region.
So get your $5/1 Beyond Pet Food Manufacturer's coupon while it lasts and head to Target to take advantage of all the savings to be had!
Disclaimer: I was provided with a complimentary bag of Purina Beyond Dog food, but all opinions and observations expressed are 100% my own.