This post is sponsored by Sivan Social. All comments and opinions are my own.
Hey Folks, it's Karen, long time staff writer over here at TotallyTarget! I don't know about your household, but around here we are HUGE football fans!
I grew up with a Dad who didn't care much for sports and a Mom who is an avid football and basketball fan. As you can see in the photo, at almost 88, in a wheelchair and wearing headphones, she's still into sports!
While she has several favorite NFL teams, her all-time favorite is the Dallas Cowboys. My husband is a Carolina Panthers fan, and we have a cousin who is a huge Arizona Cardinals fan. This makes for some interesting and sometimes heated conversations! My mother gets so worked up during the games, and at almost 88 she can really give the referees a piece of her mind.
A few years back she had a major heart attack and was in rehab. There was an intense Dallas Cowboys and New York Giants match up, and when her "Boys" won, she got her walker and hollered and whooped up and down the hallway. True story – one of the nurses looked at the other one and said, "I think she's ready to be released!"
Mom now lives with me in an addition to my house where I can keep a close eye on her, and even watch a few games together! While watching and listening to my mom's yells and "dirty looks" at opposing team players can be fun, game day has become MORE exciting since we discovered the SuperSquares app! This easy to play app is completely FREE with over $2 million in cash and prizes available to win!
IT'S EASY TO PLAY – HERE'S HOW:
First, download the SuperSquares app and set up your profile including your user name. (I simply chose my first name spelled backwards).
Then, BEFORE Kickoff on each game you are watching, check in on the SuperSquares app and make your predictions including final score. You will then rate and react to two sponsor ads and quizzes (they are short!).
The app will then prompt you to "Square Up" each quarter. Match one or both scores and get extra points! You can also earn extra points by watching additional ads.
There are multiple ways to win, and if you are super good at all predictions and interact to earn game show points, you can win some major cash and prizes! You are also put into a "game group" for additional ways to win.
If at any time you need assistance, you can click on the "lobby" button and then the "menu" tab at the top for instructions, FAQ's and more!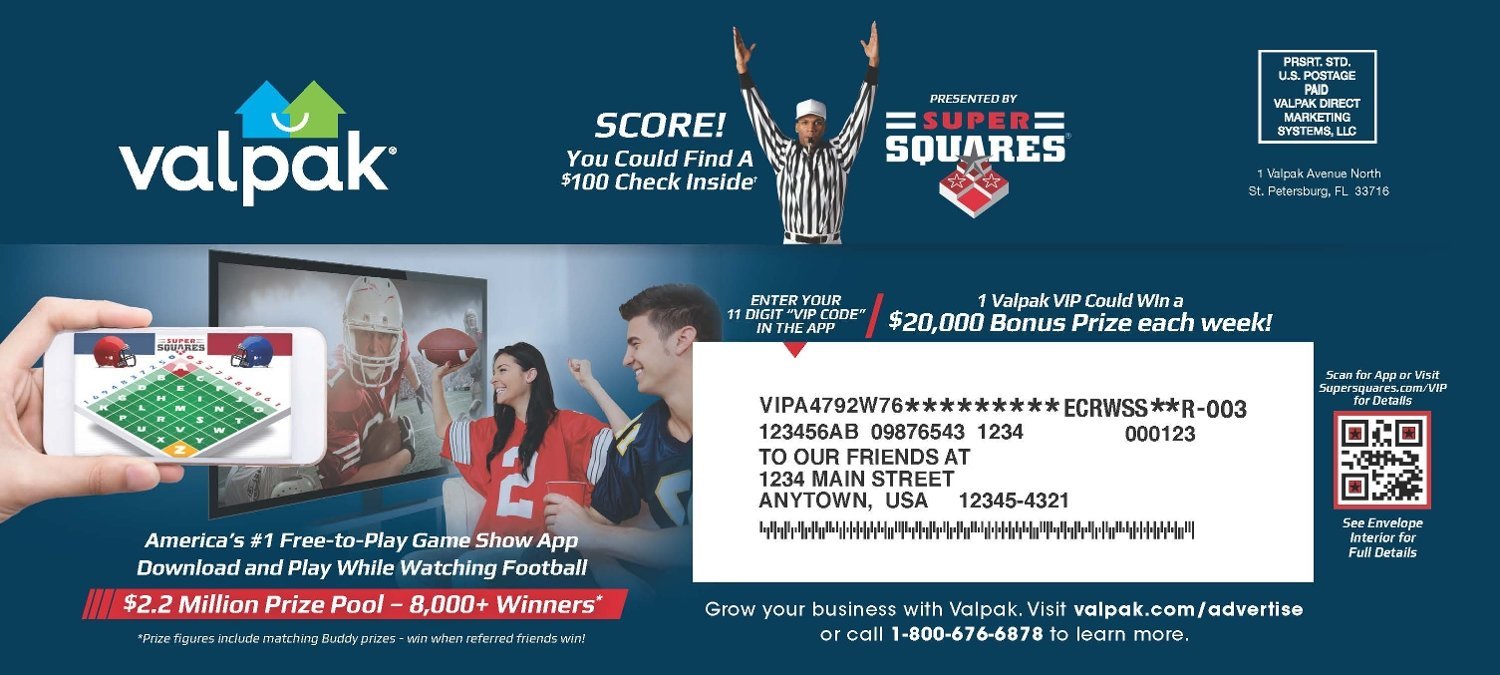 Want a chance to win even more? Starting November 22, you can play as a Valpak VIP! Check your mailbox for a Valpak envelope containing a unique VIP code and additional information that could assist you in winning an extra $20,000 weekly prize!
My whole family found the app fun and entertaining! It's exciting to watch points go up as games progressed. Some of my predictions were way off and I sure took some ribbing! However, I was pretty pleased my prediction for the Cowboys vs. Vikings final score was very close! Downloading the SuperSquares app is quick and it's a fun way to liven up NFL games knowing there's a chance you'll win!